Over the weekend, tens of thousands of climate activists and concerned citizens converged on Westminster for "the Big One", a climate demonstration with more than 200 participating organisations, including trade unions, community groups and charities, and led by Extinction Rebellion (XR). The demonstration's convivial atmosphere was somewhere between a county fair and Glastonbury: participants tried out screen printing, ate together on College Green and took part in talks about the climate crisis.
It was easy to forget that in 2020, XR was hanging by a thread. The pandemic decimated the movement on the ground – because its members could no longer meet, recruit others or plan activities. Also, the actions of a handful of protesters who blocked a London commuter train used by working-class people in October 2019 were received very badly, and did lasting damage to the group's reputation (an XR spokesperson later apologised). "People are very keen to talk about the climate crisis," one XR member recently told me, "but when they find out we're from Extinction Rebellion, they don't want to know."
In the post-lockdown era, XR has been re-evaluating its strategy in light of harsher protest laws, smaller numbers on the ground and the emergence of radical grouplets such as Just Stop Oil. For a group that was once itself an insurgent movement that successfully overturned the conventional wisdom on how climate activism should work, this is unfamiliar territory.
In the 2000s, climate activists focused less on public opinion and more on stopping new oil, gas and coal projects from being built. But by the end of the decade, that tactic came unstuck in the shadow of the 2008 global financial crisis.
Activists became "keenly aware of the fact that they were talking about climate change in the shadow of the most significant financial disaster of our generation", one activist from that era tells me. Eventually, many members of the climate movement redirected their work into the anti-austerity protests of the 2010s and climate activism took a backseat to protesting about public services being cut.
But something was happening during those years that is rarely acknowledged: young anti-austerity campaigners were, for the first time, learning about the disastrous consequences of global heating from the climate activists they were meeting at anti-austerity protests.
It was this nascent coalition of economic and environmental interests that led to new movements such as Green New Deal Rising and the Labour for a Green New Deal group, which successfully lobbied the party under Jeremy Corbyn to develop its green industrial revolution policy.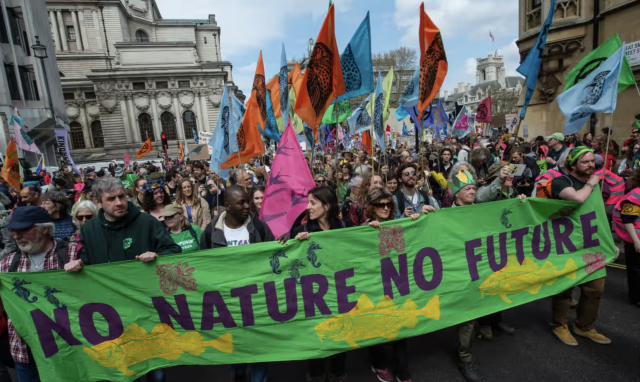 Yet in the midst of all of this Extinction Rebellion burst on to the scene in October 2018, with little connection to the movements that had come before. It broke all the understood rules of winning people over to a movement. It rejected hope in order to speak about the climate crisis in the starkest possible terms, was willing to upset other groups that were potential supporters (its first protest was to occupy Greenpeace) and created a prohibitively high bar to entry by encouraging people to get arrested.
It shouldn't have worked. But in April 2019, thousands of people flocked to central London to shut down the city as part of XR's first big action. By May 2019, UK polls were revealing a surge in concern about the climate crisis. It seemed that XR had captured the quiet angst many people had been feeling about an increasingly serious climate crisis that had been repeatedly ignored by the people in power.
Over the six months following the April 2019 protests, XR gained momentum. But like any movement, it contained contradictory views about tactics, strategy and where to go next. From 2021 onwards, activists frustrated at XR's apparent inadequacy as a vehicle set up Insulate Britain and Just Stop Oil, campaigns that focused on attention-grabbing, disruptive protests – such as throwing soup at priceless artworks. And it was this decision that inadvertently presented an opportunity for XR to reinvent itself.
Faced with increasingly draconian protest legislation and being outflanked in terms of radical tactics, XR put out a provocative statement on New Year's Day 2023 announcing "we quit". In it, the group pledged to stop focusing on arrest as a tactic, and instead grow a mass movement by concentrating on activities that are more commonly associated with political parties – such as canvassing, phone-banking and hosting local events and meetings. The Big One is best understood in this context. It was not the culmination of lots of organising, as protests often are, but an opening salvo of this new strategy in action.
The purpose of the weekend's events was to act as a giant recruiting exercise. It was a message to the millions of people who are worried about climate change but don't know how to respond: we are here, and you are welcome. It was a focal point for coalition building: there was a trade union hub (North Sea oil workers have recently been on strike), Green New Deal Rising brought representatives of the youth movement it has been quietly building, Just Stop Oil left the Van Goghs alone in favour of picketing government buildings and Greenpeace's new directors were there with a stall showcasing the organisation's desire to build relationships with the grassroots.
While Just Stop Oil has been overwhelmingly successful in achieving its aim of drawing attention to climate change, there is undoubtedly also a need for a grassroots movement that welcomes people who may not be ready or daring enough for protests that could well land them in prison. So will it succeed? The answer to that question lies in your hands. XR has invited you to become part of a new, thriving campaign to protect and restore our world. About 60,000 people accepted that invitation over the weekend. I am one of them. Will you?