The Landless Rural Workers' Movement (MST) is a Brazilian social movement that seeks fundamentally to redistribute unproductive lands.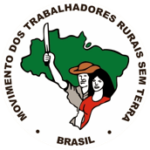 The Popular Agrarian Reform, defended by the MST, works on new social and power relations. It is a popular project of anti-capitalist society that articulates the struggle for the right to land, the debate of environmental issues, seeds as the collective heritage of peoples, the production of healthy food, education and culture in the search for and defense of social rights and decent living conditions for all.
The Landless Movement is organized in 24 states in the five regions of the country. In total, about 350 thousand families have conquered the land through the struggle and organization of rural workers.